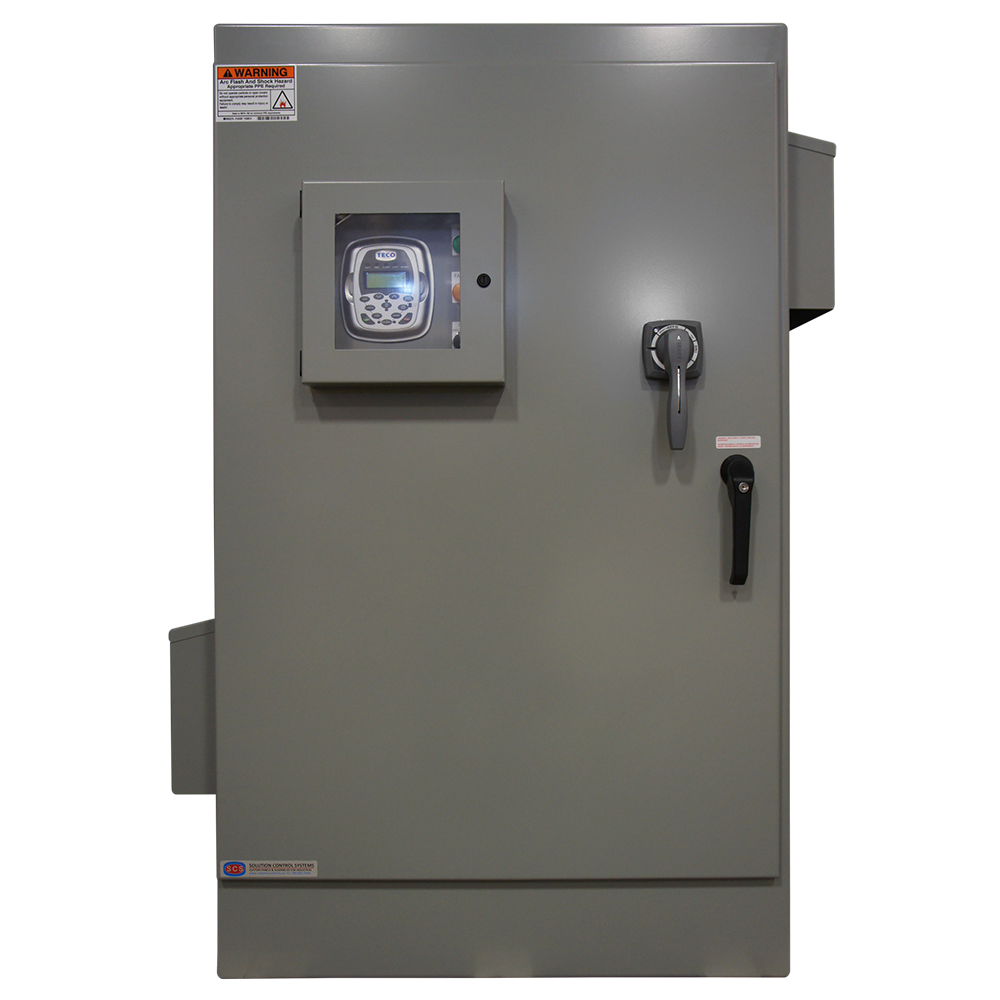 Electrical Sumersible Pump Panel
Electrical Submersible Pumps or ESP's are growing in utilization due to the reduced cost of surface equipment and need to have a smaller less visual impact on the environment. The basic theory is simple step up the voltage and transmit the power down to the electric pump located in the well. The surface electrical equipment generally consists of an ESP controller step up transformer and terminal box. While many ESP controllers are Full voltage controllers, there is a growing acceptance of VFD driven controllers. This gives the producer more control over operation and allows the pump to be slowed to limit the number of starts required on a given pump. The greatest number of failures with the pump motor is during the starting phase of operation. Inrush currents are expensive, and stress on the motor windings reduces life expectancy.
Backspin timers are also programmed to make sure that the fluid column has receded before operation can resume. Restarting too soon can result in heavy over currents as the motor will be spinning backwards while applying forward torque.
The controllers design addresses the electrical requirements needed to meet the safety standards of the oil field industry. Standardized inputs for the Presco or over pressure shut down switch and shut down circuits for Estops etc.
Are panels are built with the integration of pump off controllers (POC) in mind. Each system is selectable to operate in HAND mode or Auto being the POC. Variable speed units will also have a remote reference input so the speed will follow the rate as requested by the POC analog output. These signals are selectable between 4-20mA or 0 to 10V input.
An Analog output can easily be made available from the VFD controller for current feedback for POC controllers that require it.
All Solution Controls branded come with basic line filtering. A more comprehensive filter can be built in for higher levels of harmonic distortion filtering.
Full Voltage Controllers
Solutions Controls can also provide simple and effective full voltage controllers. The same operation and connection apply for all our oil field controllers. Terminal numbers for field devices are wired the same regardless if you have selected a direct online controller or if you have a VFD controller.
While the Direct online controllers are not capable of variable speed operation, they are still built to interact with POC. An optional feed back current device can be installed into units that require or optionally want that feedback.
Options
Some of the options available for these units are:
• Accessory power for small Chemical injection pumps.
• GFI Protected power outputs for Heat Trace.
• Site Run or Fault Lamps.
• Live Presco Test Logic circuitry.
• Site Stands
• Pedestal Legs.
• Dead Front Doors.
• Power input Harmonic filters to meet IEEE-519 requirements.
Customization to fit your needs are all possible. Let us know what your operational challenges are and we will provide you with a package that meets your needs.