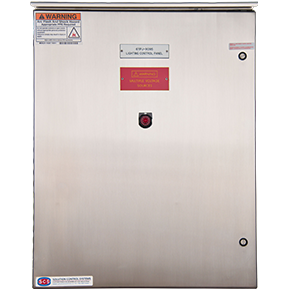 Lighting Control Panel
Lighting control panels control different types of lighting including emergency, safety, security, street, highway, parking lot, yard or general-purpose lighting with different types of controls. It could be controlling the lights from a photocell, motion sensor, sound sensor, timer, custom programmed PLC or lighting management system. All type of lights can be controlled including incandescent, LED lighting, HPS and MH. Power switching is achieved by lighting contactors or solid-state relays.
Lighting Control Panel Options
Available in type 1,12, 3R 4 or 4X enclosures

12, 24V DC, 120V and 230VAC control voltages

120V, 208V, 240V, 277V, 480V and 600V power voltages 

Built in 12 to 42 circuit panel board or load centres.

Utility meter socket and service entrance rated connection compartment.

Main or individual circuit monitoring for power consumption or light status

Options for main power on indicator, hand off auto selection.

Lightening protection

Automatic change over to stand by power or storage power for emergency lighting.

Pad mount base or pole mount bracket

Hazardous rated panel for division or zone classified areas.