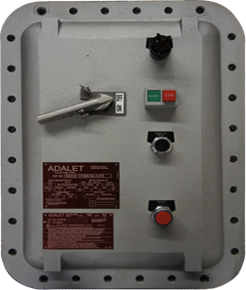 Explosion Proof Motor Starter
These motor starters are built within flameproof enclosures that are rated and approved for a variety of hazardous areas. These motor starters can be installed within:
Class I Division 1 areas
Class I Division 2 areas
Class I Zone 1 areas
Class I Zone 2 areas
Options
Features such as pilot devices, disconnect handles and viewing windows can be added to the door of these motor starters upon request and compliance of requirements.

If this motor starter will be operated in a Class I Division 2 or Class 1 Zone 2 area, Solution Controls has other options available to better fulfill your requirements.(view other options)

If you need a local START/STOP starter, then a manual motor starter in an explosion proof enclosure may be able fulfill your requirement – and be much more economical.
We can configure our manual motor starters in an explosion proof enclosure up to 25 HP at 600V or 480V
Solution Controls can provide assistance in wiring this motor starter to your motor or control system by suggesting the correct types of cables and connectors, as well as the most efficient and effective installation methods.

Please note that most flameproof enclosures are rated for Class I Division 1 areas even if they are being installed and operated in Class I Division 2 areas. Therefore, ensure that any cable glands that are to be installed on these explosion proof enclosures are of the "sealing type" and approved for installation within a Class I Division 1 Area