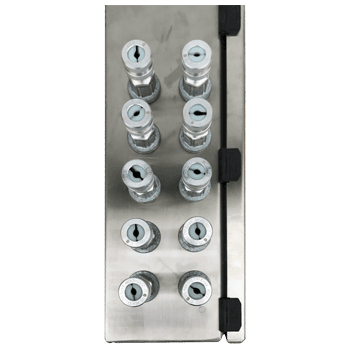 PVC Jacket cable Connectors
Cable connectors or cable glands are mechanical devices which provide a means of safe and secure way of entry for a cable to control cabinets or other devices.
There are numerous types of cable connector or glands available in the market but to make a right selection it depends on the type of cable, entry point, enclosure type, indoor or outdoor use, type of industry and area classification.
The picture shows some industrial type weather proof glands which can accept the cables with PVC or rubber jacket. The cable placements can be slightly adjusted even after termination of the cables in the panel.
We can provide any type of glands for armored cables, flat cables, rubber jacket cables, PVC jacket cables, mineral insulated cables, hazardous area cables terminated to explosion proof enclosures which requires sealing at the entry point and vendor cables with factory ends.
The advantage to customer is that we pre-drill holes into the enclosures using specialized drilling equipment and install all correct type of glands at competitive pricing. In many instances it takes long a time in the field to drill holes due to access of the surface where holes required or the type of the material of the box (e.g stainless steel).
We can also supply customized gland plates for enclosures which can be pre-fitted to the enclosures or fitted in the field with lesser effort.